Please pardon our dust as we are rebuilding our website

We hope that this hasn't diminished the browsing experience for you.
San Diego Balloons by Balloon Utopia- The Event Specialists
Welcome to Balloon Utopia!  We are San Diego's premier balloon company.  We specialize in balloon decorations and entertainment.  From large corporate events to small private events and everything in-between, we'll help you make your event the one to remember!
Why should you use balloons for your event?  Well, Balloons make people happy!  When people see balloons they know a few things right off the bat- 1) this is not an ordinary day/ space/ party/ meeting and 2) something special is happening.  There is an instant emotional connection for both young and old.
Some people fear that balloons are cheesy, or only for kids parties, but nothing could be further from the truth.  Balloons are an amazingly versatile medium that can be made to look either whimsical or elegant- it all depends on the color scheme and the shape of the designs.
Another fear that people have is that with the current helium shortage that means no balloons.  This is also incorrect.  Yes, helium is in short supply right now, but we can still get it.  More importantly, most designs don't require helium at all.  There is a ton of things that we can do using framing and air-filled designs.  In fact, some of the most striking designs are made from air and don't require any helium at all. 
So, take a few minutes and browse some of our galleries, and you'll see a great variety of ways that balloons can be used to enhance any event- public, private, corporate, whimsical or elegant. 
619 339 8024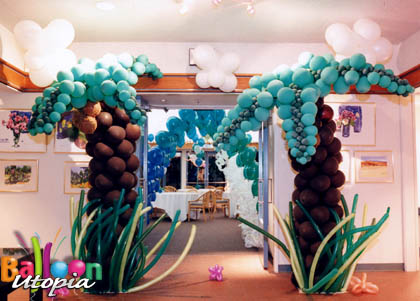 Featured on Our Site  
San Diego Entertainment and Decor Galleries
So remember, when you're looking for balloons in San Diego,  event decor in San Diego, or event entertainment in San Diego, Balloon Utopia can help you Shine!
If you have used Balloon Utopia for one of your events, either decorations or entertainment, we would really appreciate a review of our services on one of the following review sites:
Balloon Utopia's Google Local listing
Balloon Utopia's Mojo Pages Listing
Balloon Utopia's Rate It All Listing
Balloon Utopia's Yahoo Listing
Thank you!  Let us know after you've submitted a review (good or bad- we value honesty) and we'll send you a special thank you gift!